Written by Ester Mittermeier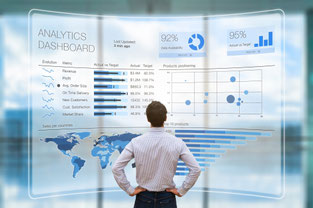 Many owners of smaller companies think that data analysis is just for larger businesses, but that could not be further from the truth. In fact, companies both large and small need consumer specific data to make the right decisions.
Unlocking patterns in unstructured data can help gain the most from sales and marketing efforts and in turn growing business. It can help you uncover patterns in customer behaviour and trends in the market and other businesses.
If your business benefits from big data, you could be at a clear advantage and it can save you valuable time.
Unlocking data allows you to make clever decisions about your budget planning, product improvement, brand building, marketing decisions and customer service optimisation. For example, you can learn a lot by examining a group of online purchases and combining it with buyer information to find out what you can learn from the data set.
Small businesses often have to operate with small marketing budgets and that means they need to make the most of every dollar they spend. Data analysis that helps small business owners better target customers, is an important part of success, and therefore the quality of that analysis might mean the difference between a profit and a loss.
Analysing data concerning the customers and finding the most common questions they ask in regard to the problems you're solving or the product you are selling can be a enormous discovery for business owners.
It is worth the effort and the best way to get started is to find a software system that automates the process.
---
You want to stay up to date and be informed about the advantages of the extended possibilities of the Predictive Solutions application? Then please enter your email address here. You can of course remove your email address from our mailing list at any time.