Written by Ester Mittermeier
A professional analysis and reporting solution
The company Predictive Solutions (formerly known as SPSS Polska)  was born in 1991 and has been offering software and  solutions for data analysis in business, public administration, research, and education for well over 25 years now.
They decided to create a business solution – with IBM SPSS technology still very much at the core – that meet the needs of users from many different industries: PS IMAGO PRO.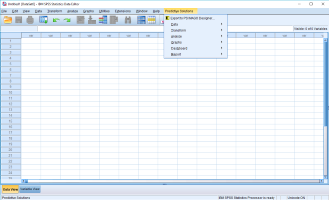 PS IMAGO PRO is based on IBM SPSS Statistics and has 41 additional procedures that enhance its functionality. These offer data set management, variable transformation, and variable dependency analysis methods that were unavailable until today. Apart from the new techniques, PS IMAGO Pack PRO provides a number of new types of result visualization methods e.g. dashboards or charts. 
It is GSD approved and visible in the IBM Global Solutions Directory under the following link:
http://www.ibm.com/partnerworld/gsd/solutiondetails.do?&solution=53499&lc=en
but does it include spss statistics as you know it?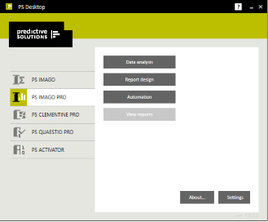 To simply answer the question: Yes it does! The software launches with PS Desktop, a solution management application that supports the organisation of analysis and reporting. From there, via the Data Analysis button, you launch the Statistics Program.
The extra components of PG IMAGO PRO can be found by the tab on the right. So there is no complicated switching back and forth between the actual Statistics program and the extras of the actual PS IMAGO software.
this is what ps imago pro can do for you
There are different components to PS IMAGO PRO, besides the analysis program based on IBM SPSS Statistics, which are: 
PS IMAGO Designer -  an application used to prepare and publish dashboards and document-based reports
PS IMAGO Portal - a report (dashboard) distribution and publication environment that can be installed within an organisation's infrastructure to provide users with access to the published report via a standard web browser.
PS IMAGO Process - a component that facilitates automated creation and scheduling of periodic reports.
So, besides giving you the option to create professional analytical reports, its an easy way to share reports with other users, offers a wide range of visualizations and lets you automatically create and update these reports.
customer reviews to PS imago pro

To find out more about this solution: