Written by Ester Mittermeier
what is udemy?
Udemy is a web based learning platform and teaching marketplace that offers the chance to learn about a variety of subjects and get an informal endorsement to demonstrate your competency. It offers an open platform for instructors to create and market their own courses. Due to their special open model, Udemy is home to an enormous number of courses — over 100.000 as indicated by their site. The costs of the courses are relatively low and are also often offered at a discount.
the course i tested
Even though I am not new to this topic, I decided to give introductory courses to SPSS Statistics a go. I find learning the basic knowledge of using the analysis software very important, so off I went on my "course hunt". 
Udemy uses a search engine, that makes hunting down a given subject quite simple. It pops up with the most popular courses first, and after that you can filter by choosing language options, reviews, price and so on.
The first on that popped up was: 

"Statistik mit IBM SPSS Statistics" by Dr. Dominik FRÖHLICH
Fortunately I speak German, so I decided to test this course first, as it is advertised as the course with the best ratings. At a cost of € 10,99 it also didn't break my saving ;)
This is what the course offers:
the basics of SPSS.
everything important about variables: what types and scale levels there are and how to clean and manipulate them.
how to calculate and display descriptive statistics in SPSS.
how and with which test you can test difference hypotheses.
how and with which test you can test influence hypotheses. 
Beside the contents the course instructor offers:
personal contact, if you have specific questions,
lifelong access to all materials in the course,
a 30-day return policy,
Exercises to deepen your knowledge,
Bonus material for the creation of surveys and
his personal assurance that he will update the course at regular intervals. 
summary of the course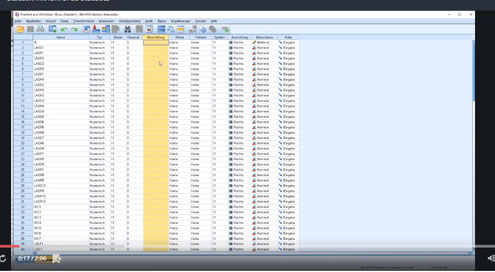 The instructor had a good, steady and methodical pace. There was a good introduction to the the basics, and by the end of the course, I felt that I had a good grasp of SPSS, how it works, and how to get around in the application and its various functions.
Also, the quality of the video and the explanations were excellent.
For those who have never had contact with SPSS however, another course to explain SPSS Statistics from scratch might be a good idea.
At he end, a certificate was automatically issued, both in German and English.
summary of udemy
If you are looking to learn something new, improve jobs skills, or explore something new that interests you, I think Udemy is a fantastic option.
The courses are moderately priced, impose no time limits, and cover a huge amount of topics. Many of the classes on the site are really good, and it is possible to weed out the duds by paying attention to the ratings and reviews. There is also always the option of watching the review of a course, to see if the instructor, his/her voice and the pace at which he or she is going is good for you.
You do not need to be a professional to use Udemy. Many of the courses are broken down into several sections including absolute beginner. Udemy is like a Wiki of video tutorials, on YouTube you'd often need ages to find the right videos and/or courses, that is if you find what you need.
The only real downside to this choice is the lack of accreditation, meaning that any learning you do won't count towards official credentialing or degree work. If that isn't a problem for you, this is a great site!