Written by Ester Mittermeier
I very recently joined the SurveyTester team in our company and I faced the, in my opinion, near to impossible task to grasp how SurveyTester works and to actually use it. And that without having to undergo a week-long training (which I, frankly, don't have the time to). So naturally, I approached my boss and asked if someone could give me a quick "run-through" of SurveyTester.
I half-expected my boss to smile and tell me that it'll take time to undergo some schooling process, but no, he sent me over to our Software Development Team Leader. So off I went to ask my future "lecturer" to make an appointment.
To sum things up: 20 minutes later I was back at my desk, with my own SurveyTester login and already running through some testing processes by myself, quickly finding my way through the program!
But let me take a step back and explain what happened!
Here is a quick overview of what Surveytester actually does:
SurveyTester is a cloud service which helps testing Market Research Surveys before they go live. It supports the whole testing lifecycle, manages and organizes project related tasks and communication. It helps identifying problems with the option of automatic repetition of all steps leading to a reported issue. SurveyTester only needs a test link to a survey and then supports the QA process, using the following three concepts:
Test automation: When starting to test a new project, SurveyTester can run fully automated tests
Screenshots with real devices: SurveyTester automatically creates screenshots of every tested page, using a variety of different devices, both virtual and real physical machines
Team collabaration: When manual testing is done, SurveyTester tracks all tested pages and allows testers to see other tester's issues before reporting their own new findings.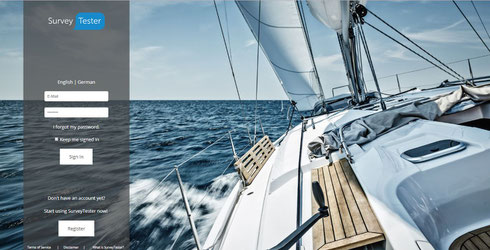 The explanation of this was done in about 5 minutes, ok, that was easy enough to understand, sounds like an awesome tool I thought, but still annoying if I need to sit down again for hours to understand how to find my way around everything.
So off we went to dive deeper into the SurveyTester world. Vedran (the Software development team leader- who, by the way, has a brilliantly patient way to explain things to non-programmers) quickly guided me through the process of how to add a survey to be tested (dead easy, just add the link), how to test manually and add comments and/or report issues (easier to use than Word I must say) and how to run tests automatically.

The project details page quickly lets you adjust all important settings, such as the project languages, the actual survey link, select screenshot devices which you want your survey to be tested on, assigned users and their roles and many more.
From there we went to the project issues page, all neatly and tidily packed into a list ( I love lists as they make things very easy to see and understand and also help you work a lot more efficiently).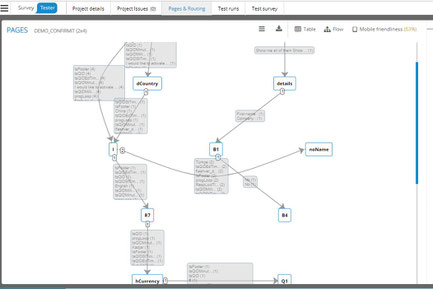 What I also absolutely love is the Survey Routing Visualization. As survey logic can be pretty complex, it is hard for "non-scriptwriters" (specially for someone new to the subject such as me) to understand if all the skip rules, the conditions and the loops are created in the right way. 
It creates a great diagram where you can check if all the questions are connected in the right way.
So - am i really ready to use surveytester after 20 minutes?
YES I AM! 
It was so easy to learn (like I said, 20 minutes, amazing right?), and is a very simple, yet effective and thorough tool for testing surveys. Its brilliant for communicating all changes with all project involved people in one place, why make your worklife more difficult then it should be, time saved could rather be spent out in the sun, seeing summer has finally arrived ;)
Here is the link if you want to find out more about SurveyTester:  https://www.surveytester.com